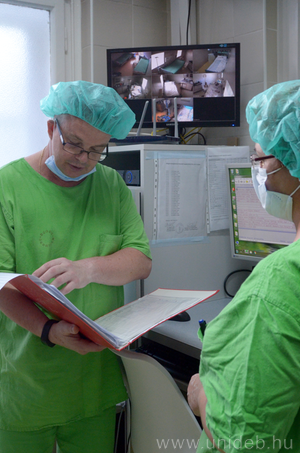 In the Clinical Center of the University of Debrecen Teaching Hospital internationally-acclaimed physicians and health specialists provide health services for patients in a modern and comfortable environment on the highest level of Hungarian healthcare. State-of-the-art diagnostic and therapeutic procedures are introduced at the clinics keeping up with global research in medical technology to provide patient care suitable for the needs of our modern age.
Besides the advanced ultrasound, MRI, CT, PET equipment, a specially developed PET-CT is also available, which makes the detection of small, initial-stage tumors possible. The Cardiac-CT provides information on the condition of the coronary artery and cardiac muscles making the early detection of cardiac abnormalities possible. One of the most modern centers of nuclear medicine in Europe is operated here. The AnyScan imaging equipment of the Center combining the triple functions of SPECT, PET, and CT and developed by Hungarians facilitates the quick detection of diseases.
The institution has introduced numerous new therapeutic procedures, among others, it was here that they first removed a blood clot from the brain after an acute stroke with the use of a special tool and the first successful use of a radiofrequency procedure in the case of patients suffering from hypertension and not curable with traditional combined medication also took place here. At the Rotating Gamma Institute they treat diseases inside the skull with high efficiency without opening the skull. Top-quality and comprehensive care is provided by the institution also for patients with cardiovascular problems and cancer.
In Hungary, the first demonstration kitchen and training room was created here, where with the help of the staff of the Dietetic Service students, health professionals, and also patients can learn about therapeutic-preventive and healthy dishes.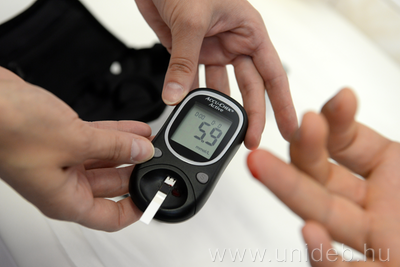 As part of patient-centered care, the single delivery rooms that can provide the comfort of the home even in the safe clinical environment have also been opened. The modern equipment and extensive experience of the medical staff makes the early detection of musculoskeletal disorders possible, as well as the measurement of the success of treatment and effective therapeutic intervention. Those suffering from rheumatologic diseases, psoriasis, and inflammatory bowel diseases can also improve their condition in the biological therapy, Biosphere rooms. In the case of kidney failure, the modern FMC Extracorporeal Life Supporting Center provides even more effective care. In the Molecular Genetics and Immune Diagnostics Laboratory genetic mutation tests are provided not only for patients from Hungary but also from Eastern Europe. The TeleStroke system has become international; it provides 24-hour video and audio contact and nonstop consultation for connected healthcare institutions.
Close to one and a half million people receive medical care at the highest level every year at patient-friendly departments and under the supervision of acknowledged specialists. Inpatients are accommodated in modern and well-equipped hospital rooms and the tasty dishes and healthy drinks are prepared with the help of qualified dieticians in accordance with international standards.
Last update:
2021. 07. 28. 11:21