HALL, a multifunctional venue under the grandstand of Nagyerdei Stadium built in 2014 in the heart of Nagyerdő (the Great Forest), offers unique cultural, educational, and business opportunities with its close to 2,000-square-meter area. The main feature of HALL is its multifunctional design that was a primary objective from the very beginning and which was realized using cutting edge technology.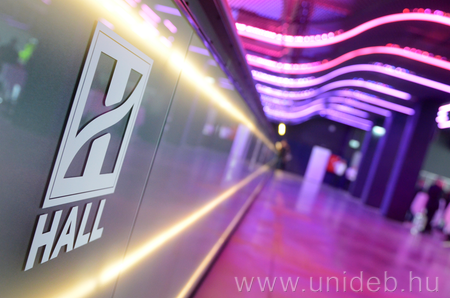 HALL was opened in July 2015 as the largest indoor venue at Campus Festival, perfectly meeting the needs of international star performers and the most popular bands from Hungary. It has provided a venue for numerous successful concerts ever since with thousands of people attending.
In September 2015 the largest university party series in the country, CAMPUS Party, moved to HALL from the previous location in Lovarda Club, further improving the reputation of the brand created ten years ago. The event series attracted close to 50,000 visitors last year, mostly university students.
HALL also serves as the venue for numerous university programs. One of the largest events is the University of Debrecen Fest (Debreceni Egyetemi Napok), an event lasting for three days traditionally and organized every October. This event, along with the Medical Students' Week, also moved to HALL in 2015.
Last update:
2021. 07. 28. 11:21