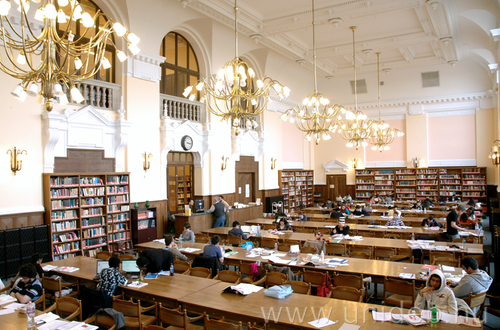 The University of Debrecen University and National Library (DEENK) is the second largest library in the country and one of the largest service units of the university. The library possesses a large collection consisting of more than six million documents available for readers in seven library units offering spacious reading rooms on five campuses of the university. Despite the variety of locations, services of the library can be used under the same conditions by all readers.
As a university library, the primary task of DEENK is to provide the necessary library background for learning, teaching, and research. Students and faculty of the university have access to one of the largest collections of scholarly publications in the country with several thousand textbooks, university lecture notes, academic writings, and articles published in some of the most prestigious international journals. The library collection can be accessed through an online catalogue.
In line with legislation, the university, as a national library, holds at least one copy from all books, journals, and magazines published in Hungary. Thus besides several-hundred-year-old rarities, there is an extensive collection in the fields of fiction, popular literature, tourism, foreign languages, fitness, hobbies, gastronomy, while the audio and video collections are also comprehensive with sheet music, CDs, records, and DVDs.
Besides providing access to thousands of digital books, journals, image and video materials, the library has also built its own digital collection and it operates the digital archive of the university called DEA (University of Debrecen Electronic Archive) which provides full-text access to scholarly publications, doctoral dissertations and theses, study materials, lectures, and institutional documentation of the university.
The library operates the University Press as well (DUPress) which publishes scholarly books, journals, and notes. The reprography unit of the library offers self-service copying at three locations at the university (UD main building: opposite the snack bar on the ground floor, UD main building: Library 2nd floor, Life Sciences Library: 1st floor).
Last update:
2021. 07. 28. 11:21