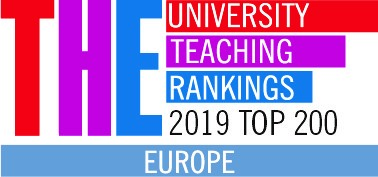 The University of Debrecen is ranked for the first time on the Europe Teaching Rankings 2019 list of Times Higher Education focusing on educational excellence, in the 151-200th category. The ranking examined European higher education institutions based on 14 criteria.
The University of Debrecen was among the best European universities in terms of educational excellence in the 2019 list of the British Times Higher Education Europe Teaching Rankings. The list of THE – which is published for the second time – is the first international university ranking that focuses solely on teaching and learning by examining resources, commitment, results and the environment.
Europe Teaching Rankings evaluates the educational excellence of institutions along 14 indicators, among others: taking into account the students' needs, the extent of the institution's resources, the reputation of the institution, the graduation rate, the possibility to acquire competences that can be utilized in the labor market, the educational and working environment, inclusiveness of the training and the internationality of the institution.
Some of the data was provided by the institutions to create the ranking, but questionnaires sent to students and academics were also used as well as bibliometric data provided by Elsevier.
The list could include those institutions from the full member states of the EEA and the European Higher Education Area, which launch accredited programs, such as undergraduate and/or graduate programs, teach in several subject areas and have at least 3000 students at undergraduate level. It is also a prerequisite that at least 60 valid responses from students of the institution in question should be given to THE European Student Survey.
Last update:
2021. 10. 12. 13:12